Taize Prayer for Epiphany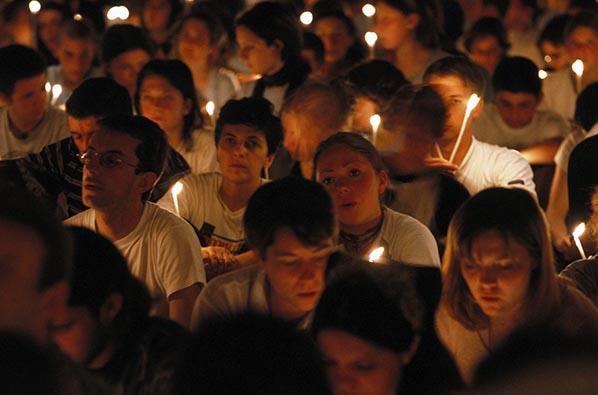 Sunday, January 05, 2014, 5:00 PM - 6:00 PM
Join us for Taizé Prayer in celebration of the Feast of the Epiphany at 5:00 pm in the Church. The service will last about 45-50 minutes. Bring your friends and your family. Child care is available for children who would find the peaceful and inherent quiet nature of Taizé uncomfortable to maintain.
4:45 pm Healing Prayer and the regular 5:00 pm Rite I service with Eucharist will be held in the Chapel.
Join us for a light supper after the service in Sumners Hall. RSVP by December 30 to Lois Trego at or 713.354.2245
+ Update on the April Pilgrimage of Trust to be held here at St. John the Divine
+ Skype conversation with Brother Emile in Taize
+ Promotional materials available for distribution
+ Ways you can become more involved!
What is "Taize?"
When one speaks of "Taizé" it could be in reference to one of several things: the village in southeastern France; the ecumenical monastic order of 100+ brothers from over 30 countries and from both Protestant and Catholic traditions who live and work together in a spirit of reconciliation, understanding and trust; or a place of pilgrimage for over 100,000 young adults each year.
Taizé also refers to a style of worship experienced daily within the Taizé community: song, prayer, and silence that quiets the mind, opens the heart and feeds the soul. Using simple melody and words, a basic reality of faith is expressed. Both melody and text are grasped quickly by the heart and intellect, and gradually penetrate the whole being. Most especially, Taizé Prayer is a time of quiet in the presence of God.
Although "Taizé" speaks directly to older youth and young adults, it is timeless and deeply meaningful to people of all ages. In our world of nonstop activity and constant connectivity, our need to be in God's presence in quietness and simplicity has never been greater. In Taizé Prayer, everyone is given the opportunity to experience the mystery of God that is empowering, yet defies explanation.
Lord Jesus Christ, your light shines within us,
Let not my doubts nor my darkness speak to me.
Lord Jesus Christ, your light shines within us.
Let my heart always welcome your love.