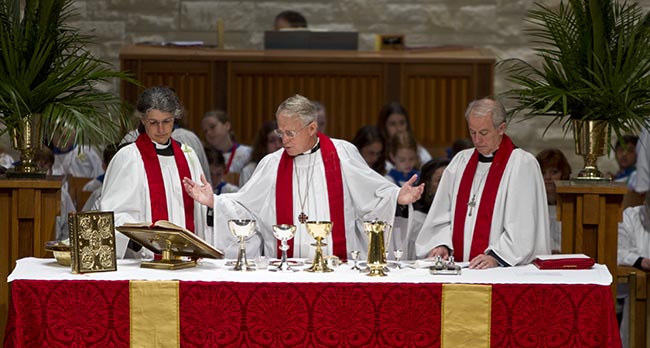 Service Times & Directions
---
Weekday Services in the Chapel
| | | |
| --- | --- | --- |
| 7:00 am | Morning Prayer | M, T, Th, F |
| 5:30 pm | Evening Prayer | M, T, Th, F |
| 7:00 am | Holy Eucharist Rite I | W |
| 10:00 am | Healing Eucharist | W |
| 5:30 pm | Holy Eucharist Rite II | W |
---
Service Descriptions
7:45 am Traditional (Rite I) Eucharist in the Chapel
This service with communion is held in the Chapel with organ accompaniment. Because of the smaller space, it has an intimate feel. This service generally lasts one hour.
---
9:00 am Awesome Worship Service in the Parish Life Center
Awesome Worship is designed for families of all ages and stages. This service actively engages children ages 3 years through 3rd grade by encouraging participation in worship. The worship band has an energetic, contemporary guitar-driven sound, and songs are taught with hand motions. Children, parents, and grandparents participate in praise and thanksgiving to the Lord. The liturgy, the message, and communion are geared for the entire family while keeping in mind the importance of being developmentally appropriate. Immediately following the service, children are dismissed to their Sunday school classes.
---
10:00 am Traditional (Rite II) Service in the Church
Using the contemporary language from the Book of Common Prayer, this service seeks to be attractive and comfortable for families while at the same time maintaining a high sense of liturgical beauty and holiness.
---
10:00 am Contemporary Service in the Parish Life Center
Guitar-driven music leads the worship for this service. The music is grounded in the history of the Church across the ages. Our band is equally adept at leading ancient hymns as well as modern worship songs. Worshippers in our Contemporary Service experience the beauty and breadth of Anglican liturgy. Prayer ministry is available for you during communion. The Contemporary Service brings the Word of God into our increasingly visually oriented culture by using screens instead of songbooks. Dramas, visual arts, and clips from movies and television are occasionally incorporated in the worship service. While the service is distinctly Anglican, the worship style is attractive to those who are familiar with modern evangelical worship.
---
4:45 pm Prayer Service in the Chapel
This time is designated for praying specifically for one's own physical, spiritual or emotional healing, or for the healing of others. The worshipper has the opportunity to lift up to God the names of loved ones in prayer and also to kneel at the communion rail for individualized prayer and the laying on of hands with the priest or with a prayer minister. This service immediately precedes a service of communion.
---
5:00 pm Traditional (Rite I) Service in the Chapel
This service is essentially the same as the 7:45 service. Because the service is at the close of the afternoon, it tends to feel more informal but no less reverent.